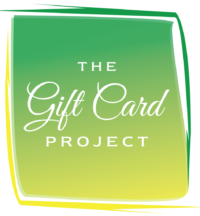 The Gift Card Project
The Gift Card Project is an idea, movement & national effort meant to encourage others to bring closer in proximity the needy and those who help them. Sign up to be an ambassador today!

The challenge of The Gift Card Project is the string attached to the gift card – to have a real conversation with the person to whom you are giving the gift card. Ask them how they are doing, what has brought them there. Your ministry of presence is worth more than the money itself.

Maybe we as a society have been wrong about what the word "need" in needy actually means…
The Gift Card Project reminds us that the gift isn't as much the monetary donation but the person himself, namely YOU. Pivoting out of poverty first requires a person to believe in their own intrinsic dignity. That is the real goal of The Gift Card Project. Learn more about The Gift Card Project…